To add your PUHSD messaging account to your iPhone, iPad or iPod Touch:

1. Go to Settings, then Mail, Contacts, Calendars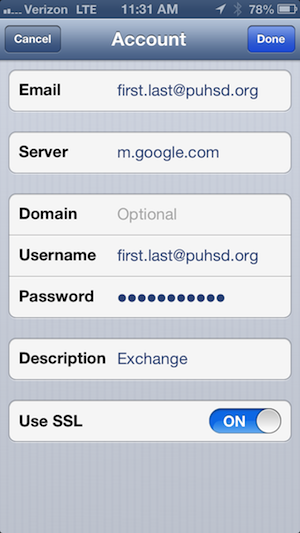 2. Select Add Account, then Microsoft Exchange
3. On the next screen enter the following information:
Email: first.last@puhsd.org
Domain: leave blank
Username: first.last@puhsd.org
Password: your account password
Description: informal name for this account (e.g. PUHSD)
4. Your device will now try to locate the server. A field named
Server
should appear as seen in the example. If the field is blank, enter
m.google.com
and tap
Next
.

5. Select the services you wish to synchronize and tap Save to complete the configuration.
6. By default only three days of email sync to the device. To sync more:
Go to Settings, then Mail, Contacts, Calendars
Select the Exchange account you created previously.
Select Mail Days To Sync and choose your desired number of days. We recommend 1 month as the maximum setting; choosing No Limit may consume all free space on your device if you have a large mailbox.
Tap Save to save the setting.